Old News
0108xx
From Roelof Koning I received new information about Spectrum clones from Romania such as CIP-03, Felix HC 85, HC 90, HC 91, TIM-S, COBRA and JET.
010512
Fixed the information about the Czech clone Mistrum.
010402
Received more information about the computers made by Peters Plus Ltd.
010322
Found a picture of the Spectrum clone Digra by Dynamo Computer. Not much info about it.
I was contacted by a representative of Peters Plus Ltd and got some new info about Sprinter.
010318
Received information that BK 0010 and BK 0010.01 are not ZX Spectum clones but 16 bit machines derived from DEC PDP11 architecture. They used a K1801VM1 CPU (a LSI-11(DEC) compatible CPU).
010305
Denis Parinov identified a noname clone as Bi aM ZX Spectrum 48/64.
I received an Eye Site Award for the third year:


010304
Davide Barlotti have again found a noname clone.
I also added some pictures and info from http://www.rus-sell.com to Spektr and BK 0010 and Elektronika BK0010-01.
Added more info about the Kay 1024.
010115
Davide Barlotti managed identify a noname clone as Grandboard2+. I also have updated the info on Scorpion SZ-256, Didaktik, Baltica, Delta, Hobbit, Master, Nafanja and ZX-Next.
001228
Yet again Davide Barlotti have found some clones, this time it's Delta and Sintez 2.
001211
Davide Barlottifound another clone called Master but little is known about it.
001031
I got some wonderfull pictures of Didaktik M.
000812
Because of the size of the page of clones I've split it up according to manufacturer och computer.
000226
Davide Barlotti found a rear view of the noname 128K clone that made it possible to see what ports it has.
Mac Buster informed me about the GrandRomMax, a clone of ZX Spectrum as well as adding new information about ATM, Baltica, .
I received a Eye Site Award this year too:


000218
Davide Barlotti found yet another noname clone of ZX Spectrum.
000215
Davide Barlotti found two new noname clones of ZX Spectrum. Tarján Richárd gave me information and picture of the HT3080C as well as aditional information about Kay 1024, ATM and Pentagon.
000212
Davide Barlotti found another noname clone of ZX Spectrum as well as pictures and info about Peters MC64.
000207
Updated the page with links. Now you get the entire directory right here.
000203
Davide Barlotti found a noname clone of ZX Spectrum.
000201
Davide Barlotti is at it again. Now I have pictures of the Hobbit.
000129
Another tip from Davide Barlotti gave me info about the Master K11.
000122
Removed the CP400 as it turned out to be a clone of Tandy Color Computer (CoCo).
Stephan Slabihoud gave me new information about Delta S-128, Pentagon-128, Leningrad 48K/Leningrad 1, Scorpion ZS256 Turbo, Robik, Profi, ZX-Next, Sprinter and KAY-1024.
991221
Davide Barlotti is at it again. This time he found a speccy clone called Spektr 48.
991104
Another tip from Davide Barlotti gave me some information about the Spectrum clone Sever.
991016
Andreas Kaiser gave me a description of what AZX Monstrum is. Sounds cool. Also added ATM.
991014
Thanks to Davide Barlotti I now have a picture of the boot screen of the Profi. Added the clone Santaka 002. Removed CP-300 (earlier reported to be a clone of ZX81) as it turned out to be a clone of TRS-80. I also mention the AZX Monstrum altough I don't know what it's about.
990924
Added several new clones. Thanks to Davide Barlotti for giving me a tip about a russian clone being sold at eBay and to Tarján Richárd for giving me information about Hungarian and Russian clones such as HT 3080C, Kay 1024 and Peters 256 as well as giving more information about Scorpion, Didaktik Kompakt and Sprinter.
990806
Added several new clones and pictures. Especially of the brazilian clones such as CP200, CP300, CP400, NE Z80, NE Z8000, Ringo R470, TK 82, TK 83, TK 85, TK 90X, TK 95 and Inves Spectrum 48k+.
990802
Added pictures and more information about the Spectrum clone Sprinter.
990418
My stepmother who speaks russian but doesn't know much about computers helped me get a translation of a page about russian Spectrum clones. The translation may be wrong in places but I added entries for Ella Ra, Kvorum-64, Kvorum-128, Kvorum-128+, Delta C-128, ZX Next, Moskva 48, Moskva 128, Baltica, Pentagon 48 and Krasnogorsk.
990411
Added two images and lots of information about the clones Didaktik Gamma, Didaktik M and Didaktik Kompakt. Big thanks to pol/phantasy.sk who provided me with it.
990307
Corrected some information about the clones. I also updated some of the links. Added a new counter.
990215
Even more information added about the clones. This is the area of this site that grows the most.
990122
Updated the page about the clones with more information and more pictures. Keep 'em comming!
I have received my first award!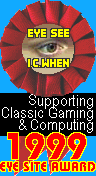 9812nn
My Pentagon 128 (a Russian Spectrum clone with 128K memory and a 5.25" drive) has recently arrived so there is a page about it. I've also added a page about the various types of Spectrum clones there are. Some entries are a bit thin so if you have anything to add please do so!
HOME | MIDI | WINDOWS | COUNTERS | SNAPS | LINKS | MAIL ME