Elwro
Elwro is a polish company that produces two Spectrum clones. They have a home page but it doesn't mention anything about their computers.
Elwro 600 Jr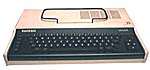 A clone featuring a full size keyboard and even a paper holder! The reason it has a paper holder is that the case was originally designed for a small electric organ.
Elwro 800 Jr
Comes with a disk drive and there also was a version of CP/M called CP\J for this machine.
HOME | MIDI | WINDOWS | COUNTERS | SNAPS | LINKS | MAIL ME